The Color Handbook
Demystify the Color Wheel
To get started, take a look at a color wheel: Warm reds, yellows, and oranges congregate on one side, while cool lavenders, blues and greens are on the other. Creating a palette within one half of the wheel tends to be more harmonious. But pairing two colors that stand opposite one another adds a dash of invigorating tension. Which do you prefer?
Helpful color wheel terms:
A monochromatic color scheme uses tints and shades of the same color.
An analogous color scheme uses adjacent colors on the color wheel.
Complementary color schemes (as in "opposites attract") include two colors that are opposite to each other on the color wheel.
The Theater of Light
Light in a room changes many times throughout the day. From the natural light of early dawn to the artificial light of nightfall, the interplay of light and color is a crucial component when it comes to choosing your perfect paint colors.

As seen here, bright midday sun will wash out most pale hues (top); that same hue will be flattered by softer, indirect illumination (lower left), while artificial light will add a warm glow to the wall color (lower right).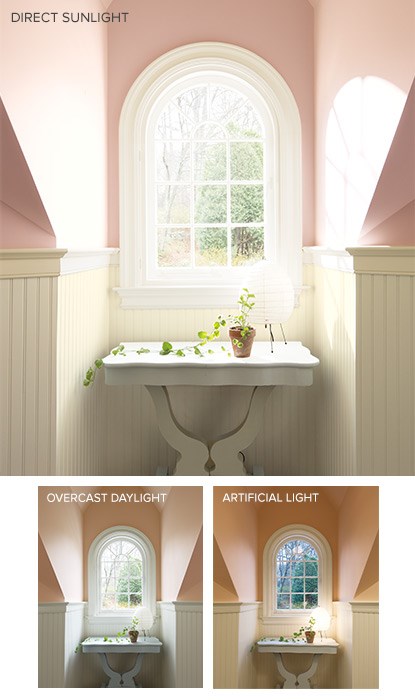 Test. Observe. Repeat.
Experimenting and observation is key.

To make sure you choose your color with confidence, tap into pint-size color samples. With these handy samples, you can paint a board – foam core will do nicely – and move it around to different parts of a room. Monitor how the paint color changes at different times of the day so there are no surprises once you've applied your paint color choice
Details. Details, Details.
Choosing the right sheen can enhance color. Painting the walls in a gloss will add dimension and levity. Semi-gloss on a low ceiling will move light around the space and create the illusion of height. From a practical standpoint, remember that shinier finishes look best on smooth, well-prepped (e.g. spackled, sanded, etc.) surfaces, while matte or flat paints are more forgiving of imperfections.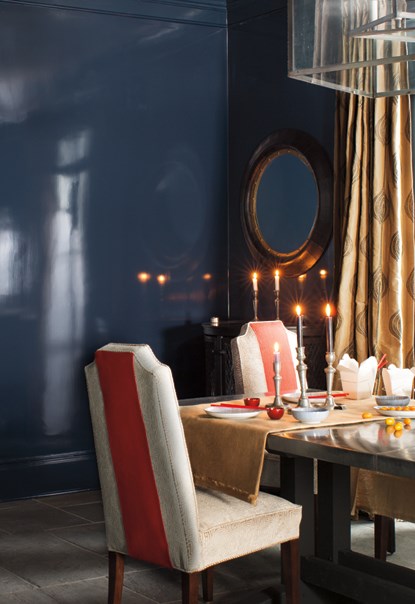 Sheen 101
Sheen puts the finishing statement on your color of choice:
Flat – low sheen, very forgiving
Matte/Eggshell – Durable, flexible for most parts of the home
Semi-Gloss – Luminous finish that highlights architectural details
Visit an independently owned Benjamin Moore retailer to see sheen samples–first hand–before you decide